art dump and requests by ekra (hero modes, talksprites, etc!)
08-22-2016, 11:05 AM
> Merry shitscram

☆Sonic_Staars☆




Haikyuu!! TRASH




Entered: Apr 2016
Reputation: 11
Player Badge:
RE: art dump and taking hero mode requests by ekra
(08-22-2016 12:09 AM)

Ekura123 Wrote:

(08-21-2016 10:39 PM)

Tachi_Pachi Wrote: Can I request you to draw my oc Ashe Akiiro?

If you wanna see how he looks like, visit my tumblr page: Tachimatsu-san.tumblr.com :33




CHALLENGE ACCEPTED


But wait, do you mind telling me the action that I'm going to draw for your OC? Or to say, pose? For example, standing somewhere.
Maybe swinging his baseball bat or sleep dancing in prospit, idk
---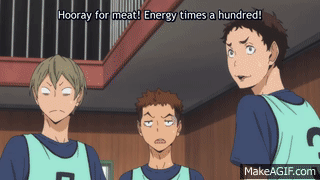 "

Hallelujah, hallelujah! Meat is god, Meat is god!

"
~Noya, Shoyo and Ryu 2k16
User(s) browsing this memo: 2 Guest(s)