---
Headcanon Masterpost - gaysofficial - 06-01-2017 08:07 AM

Ever been stuck on figuring out headcanons for your character? Need help finding good reference pictures? Don't even know where to start when it comes to finding a voice? Well, hopefully this will be of some aid!
This is a master collection of headcanons, starting with my own and expanding as users add their own. Please be respectful of headcanons present, and if you see something that you don't quite agree with, make sure that if you give a comment on it that it's constructive criticism!

---
Rules;


- as previously stated, don't bash someone's headcanons just because you aren't a fan.
- please only submit sfw things.
- if you submit images, please put them in a spoiler to avoid clutter.

---
Updates;


- [7-1-17] added "screen name" to beforus trolls
- [7-5-17] added leprechaun tab
- [7-5-17] added skin tone organization for human reference pictures

---
---
If you have submitted something that is not yet here, be patient! It will show up eventually!

---
RE: Headcanon Masterpost - r o n n i e - 06-01-2017 08:13 AM



Headcanons for Dirk Strider
By danxiously on tumblr
By nolvini on tumblr

Just general headcanons:
Dirk was born with orange eyes, as we all know, and as a result, he's extremely sensitive to sunlight, or bright lighting of any kind. In order to avoid any migraines or other complications, his guardian gave him a pair of shades to wear at all times.
---
RE: Headcanon Masterpost - Alienoid - 06-01-2017 08:14 AM

I'm not sure if submissions are supposed to be entered here or privately or what have you, but I have a few rapid-fire ones I can pass real quick (I'll submit more later but time's of the essence and I have to leave soon so here I go.)

On the topic of Eridan, I have two headcanons: the first being that his wriggling day is on the equivalent of the 31st of January, like Karkat's is the 12th of June. I've got my reasoning here. The second is that Eridan's middle name would be Julius, after one Julius Caesar himself. It fits the six letter rule and just, sounds like a nice name.

And then on the topic of Rose, I personally have a headcanon that she's, ironically enough, afraid of the dark. Not of darkness itself, but simply being IN the dark, if that makes any sense.

I'll submit some more later when I actually have time to compile a small list of various bits and doodads but hopefully this takes off, I'd be interested in seeing how this goes.


---
RE: Headcanon Masterpost - r o n n i e - 06-01-2017 08:18 AM



Goldmine for Human Lil' Cal refs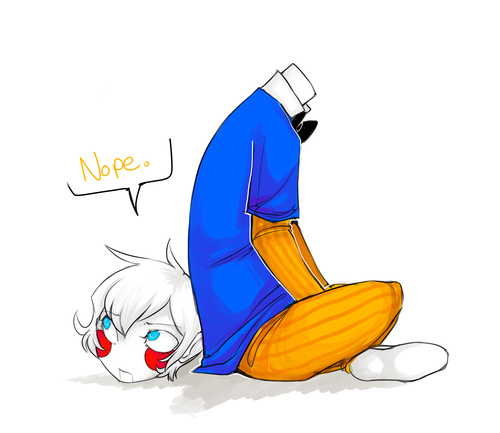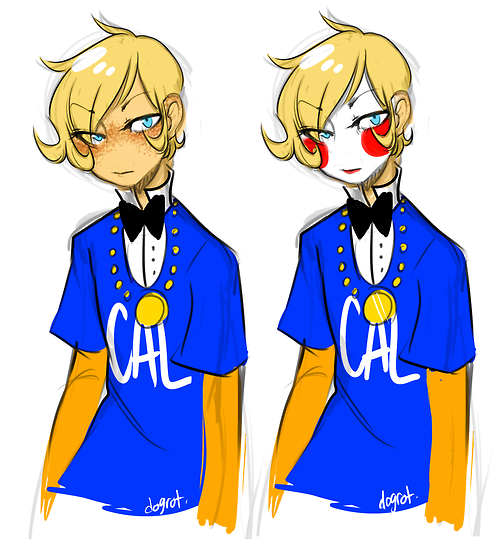 ALL ART SHOWN BY DOGROT ON TUMBLR


---
RE: Headcanon Masterpost - ambiguousTrials - 06-01-2017 08:23 AM



(Knocks on door)





(Slides paper through envelope slot)





(Vanishes into the night)



I personally headcanon Jake as Filipino!

Also I one time came up with John's middle name being Ulysses and now I've always subconsciously cemented his full name as John Ulysses Egbert. It's adorkable, but I understand if it doesn't work as a "real" headcanon.



AND ANOTHER THING

Dirk can actually speak broken Greek, claiming it to be an "ancient, forgotten language."


---
RE: Headcanon Masterpost - r o n n i e - 06-01-2017 08:27 AM



BUSTS THE FUCK INTO THE MEMO



I HEADCANON DAVE, DIRK, BRO, ALPHA BRO, AND LIL' CAL AS GERMAN/AMERICAN


---
RE: Headcanon Masterpost - origamidragons - 06-01-2017 08:33 AM



I'll probably be back later with more!


---
RE: Headcanon Masterpost - r o n n i e - 06-01-2017 08:45 AM



TAVROS NITRAM REFS!!!



ALL BYE CLOCK-HEART ON TUMBLR



EDIT: TOP RIGHT IS BY f0restleaves on tumblr!!!!


---
RE: Headcanon Masterpost - clandestineAbattoir - 06-01-2017 08:47 AM

Dirk: Height: 5'10
Full name: Dirk Martha Strider
Has depression and axiety
Is a Germaphobe
Is Agender
Doesn't actually like wearing his shades
Is the Dad Friend
Got really sick when he was a kid and can't walk well for long periods of time because of it.

---
Jane:
5'4
Had a punk phase in her early teens and still like punk music
Can actually beat dirk in a fair fight
Allergic to beestings


---
RE: Headcanon Masterpost - AncientE%cursion - 06-01-2017 09:52 AM

Scottish Amporas

All of them


---